The all-in-one audio/MIDI interface that fits in your pocket.
The only Interface you need for making music on the go.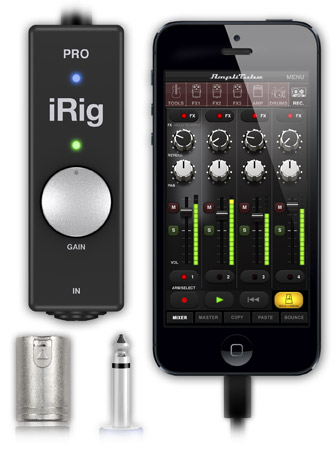 Wouldn't it be great to have one compact portable interface for your iPhone, iPad or Mac that you could use to connect your studio mics, your guitar or bass, your keyboards and your MIDI controller, and play, practice and record on the go? Ta Da! Now you can with iRig PRO.
iRig PRO is the first full-featured compact audio and MIDI interface you can use with your XLR microphones, your guitar and bass, your keyboard or other line-level source and your MIDI controllers. It features an XLR/1/4" combo jack for connecting microphones and instruments (accepts XLR and 1/4" TS cables), and a MIDI input for plugging in your favorite controller.
Now when you're on the go, you can record vocals, harmonies, acoustic instruments, electric guitar/bass, keyboards and more without changing your interface and disrupting your creative flow. You will find iRig PRO to be the most versatile iPhone and iPad accessory in your gig bag. And when you get back to your Mac, plug iRig PRO into your USB port and keep jamming away on your laptop or desktop.
30 pins of Lightning USB
Anywhere you play, you can use iRig PRO. It comes with three (3) cables to connect to all of your playing/recording devices: a Lightning cable for newer iPhones, iPads and the iPad mini; a 30-pin dock connector for "older" devices; and a USB cable for connection to your Mac laptop or desktop. No need to thank us… it's just who we are. Start a song on the bus or in the hotel room, polish it on the plane, finish it at home or in the studio… iRig PRO is truly the only interface you'll need.
All this and MIDI, too
In addition to all the great audio functionality you get with iRig PRO, it also functions as a plug-and-play MIDI interface. Use the included MIDI cable to connect any MIDI keyboard or other controller to your iOS device or Mac and play virtual instruments or change parameters in Core-MIDI-compatible apps and software. When you use iRig PRO with an IK MIDI-capable iOS app like AmpliTube or VocaLive, the app's premium MIDI functionality — which otherwise requires an in-app purchase to activate — is included free.
Features
Balanced input for a mic, unbalanced input for line-level or Hi-Z source, via XLR/1/4" combo jack connector

Preamp gain control

High-quality mic and instrument preamp, low noise, high definition

High-quality A/D conversion

MIDI IN, compatible with iRig MIDI cables

+48V phantom power provided by included 9V battery

Sturdy, durable construction

Powered by mobile device or USB when plugged into Mac

30-pin, Lightning, USB, and MIDI cables included

Comes with complete suite of music-making software and apps:
For Mac: AmpliTube Metal, T-RackS CS Classic mastering suite, SampleTank XT sound workstation
For iOS: AmpliTube FREE for iOS (including Metal W amp, Metal 150 amp, Wharmonator stomp, X-Flanger stomp after registration); SampleTank FREE, a sonic workstation with 48 additional exclusive sounds (after registration); iGrand Piano FREE (includes Grand Piano 1 with Upright Piano 1 and Rock Grand 1 available after registering the app and hardware, respectively). And with the FREE iGrand Piano app, registering your iRig PRO instantly removes the 4-octave range limitation giving you access to all 88-notes of the instrument as in the full version.